Hey, I was wondering if anyone is a Real Ghostbusters/Ghostbusters fan. If so, I want to try to start an rp for the Real Ghostbusters cartoon series with CCs of course. I'm sure the show is on youtube.
PLOT:
The spiritual activity in the New York area has been increasing dramatically. The Ghostbusters have had their hands full of trapping ghosts. Unknown to them, a deity much older than Gozer is slowly making an attempt to cometo our dimension and end the world. It is up the Ghostbusters and new allies to save the world again.
Rules:
1. No godmodding. It's very annoying to other players and it's frowned upon.
2. General forum rules apply.
3. Don't stray too far from the plotline. Side stories are okay.
4. Keep it PG, please.
5. Please do not put vague bios, i.e. "Unknown", "ask him/her", or "will be revealed"
6. No pics from well known anime or video games. General anime or real people pics are fine.
7. Have fun.
OCs:
Dr. Egon Spengler: SMARKAgentKC
Dr. Peter Venkman: SMARTAgentKC
Dr. Ray Stanz:
Winston Zeddmore:
Janine Melnitz:
Slimer:
CC Format (Follow mine):
Name: Liz Stuart
Age: 25
Looks: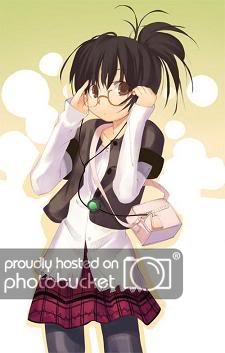 Ghostbusters outfit: Like Egon's, but with pea soup green hems
Powers (if any): Can sense spiritual activity (basically a walking PKE meter)
Bio: Liz's family died in an accidental house fire. She has been in and out of foster homes and finally ended up in one in New York City. Her current foster parents don't care for her spirit/ghost sense and eventually kicks her out of the house. She goes to the Ghostbusters to see if they can help her figure out what her power is and how to use it. She develops a crush on Egon, but is too shy to tell him.
Personality: Kind, curious, shy, avid reader, loves puzzles
Likes: Books, crosswords, books (oops, already mentioned
), hanging with friends
Dislikes: Childish pranks, being teased
Crush: Egon